Squares
Blued Steel Try Squares and Mitre Squares.
Rosewood Try Squares to BS3322
The stocks are made of Rosewood, the blade from tempered, blued steel. They have a machined brass face for protection against damage and accuracy. The blade is secured by means of a brass diamond washer and steel rivet, or all brass round rivets.
All our try squares are manufactured to BS3322. Each square is tested for accuracy twice during manufacture and again immediately prior to despatch.
The squares are tested on both the inside and outside faces, our specification for the internal angle is twice as accurate as that specified in the British Standard, an accuracy better than 0.01mm/10mm blade length.
Rosewood Mitre square
As the name suggests, enables setting of 45° mitres. Made to the same specification as the try squares.
Rosewood Try & Mitre Square
This square combines the functions of both try & mitre squares.
A range of beech try squares is available, made to the same accuracy as above but only with the round brass rivets.
Large Marking / Measuring Tools
Our range of Large Marking / Measuring Tools is primarily for use with sheet materials or large projects.
The 18" & 24" Try Squares have rosewood stocks, blued spring steel blades, and are secured by five brass diamond washers with steel rivets, and a 3mm thick brass face plate. As these squares may be used on sheet material, at the toe of the stock is a small retractable blade, which, when out, sits on the edge of the sheet and stabilises the square.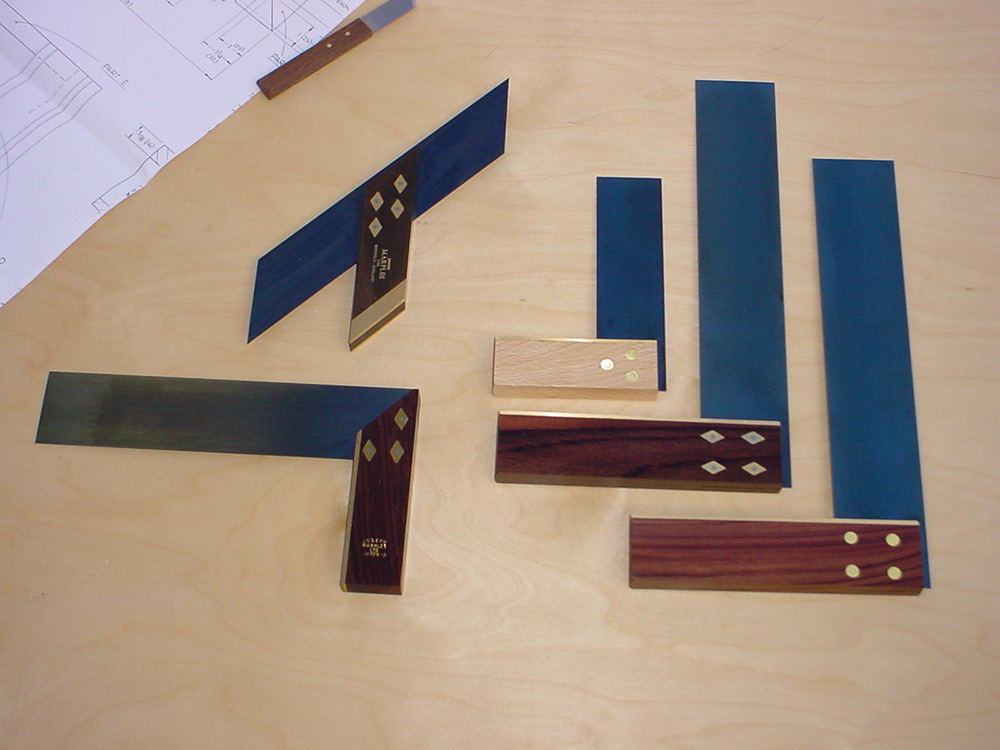 Specifications:
Code
Description
Rosewood Try Squares
19a
6" Brass diamonds & steel rivets
19b
9" Brass diamonds & steel rivets
19c
12" Brass diamonds & steel rivets
19d
6" Brass round rivets
19e
9" Brass round rivets
19f
12" Brass round rivets
19k
18″ Brass diamonds & steel rivets
19l
24″ Brass diamonds & steel rivets
Rosewood Mitre Squares
19m
10" Brass diamonds & steel rivets
19v
10" Brass round rivets
Rosewood Try and Mitre Squares
19t
9" Brass diamonds & steel rivets
19w
9" Brass round rivets