These are the five original design measuring and marking products made for the miniature or model maker.
All the squares are made with blued steel blades (2.75" long), pinned to a rosewood stock which is fitted with a brass wear strip. The dovetail squares are available in either 1:6 pitch for softwoods or 1:8 pitch for hardwoods, a 3" try square is also available.
The 4½" mitre square is ideal for anyone using small section moulding to produce frames etc. The 4½" sliding bevel can be set to any angle and the blade locked in place with a turn screw.
The rosewood marking knife has a high carbon steel blade, bevelled on one side only for accurate marking.
Specifications:
Code
Description
19g
3" Try Square
19h
3" DovetailSquare, 1:6
19j
3" Dovetail Square, 1:8
19n
4½" Mitre Square
20g
4½" Sliding Bevel
25
Rosewood Marking Knife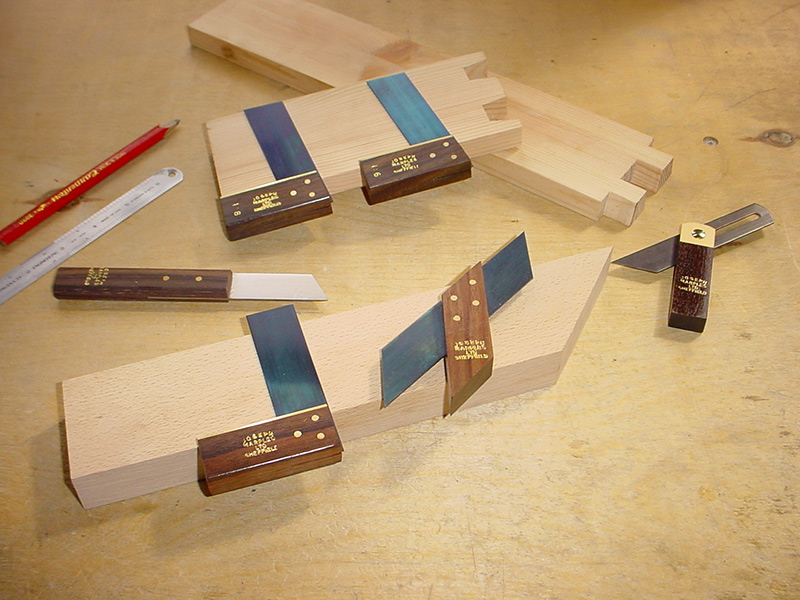 Other Woodworking Tools from Marples
Tools Used In Joinery Work – including Miniature Marking & Measuring Tools, Bradawls, Gimlets and Padsaws (& Blades) Marking Knives, Mallets, Pozidrives / Screwdrivers, Tack lifts and Spirit Levels.
This is only a selection of quality tools we supply – please get in touch with any special requirements or enquiries.